What are the challenges of Wifi these days?
The answer is simple, it's all a matter of usage …
The challenges are those of increased demand for wireless access, of an increasingly connected, mobile society, with more and more varied uses and requiring the lowest possible latency.
Wifi's answer to these challenges is 6th generation Wifi.
What is WiFi 6?
Wifi 6, also called Wifi 6, also called Wifi 802.11ax, is the latest standard usable in Wi-Fi networks, officially launched in September 2019.
This new standard meets the new wifi needs of today:
– Performance
– Increasing density of devices
– Diversity of applications.
To meet these challenges, 802.11ax offers up to four times the speed of 802.11ac. Other improvements include the ability to use the 2.4GHz and 5Ghz bands for a number of use cases.
The great interest of Wifi 6 lies in environments dense in devices and connected objects. This is where you will really see the difference! The wifi network will be more efficient, faster and the user experience will be significantly improved.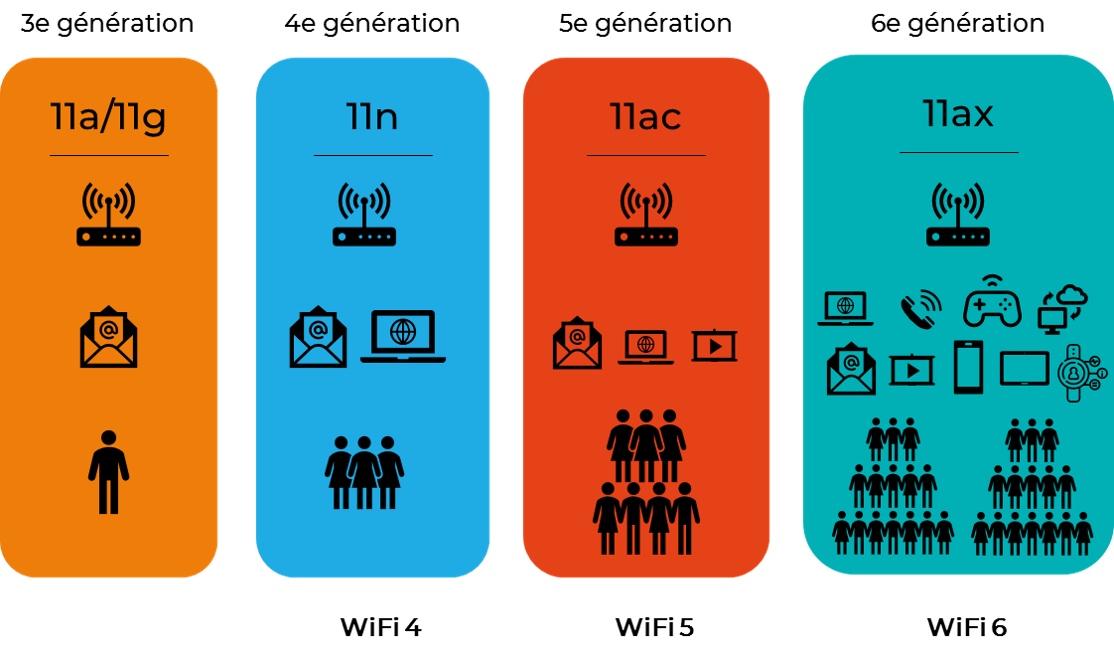 The 3 big improvements of WiFi 6 (802.11ax)
1- The MU-MIMO technology (Multi user - Multiple input and multiple output)
This technology, already used on a large part of current routers, will be generalized on all Wifi 6 routers. It allows information to be sent to several devices at the same time rather than to each device one after the other. In addition, MU-MIMO is being updated with Wifi 6. So far capable of communicating with 4 devices at a time, Wifi 6 will allow communication to 8 devices at the same time.
2- OFDMA (Orthogonal Frequency Division Multiple Access)
Wifi 6 also relies on OFDMA which not only speeds up data transfer but also reduces latency. This technology allows data to be transmitted to several devices in a single transmission. Each transmission will be therefore optimized to contain a maximum of information per shipment.
3- TWT (TARGET WAKE-UP TIME)
It is an intelligent standby mode to reduce the energy consumption of the access point, but also to limit interference with nearby devices.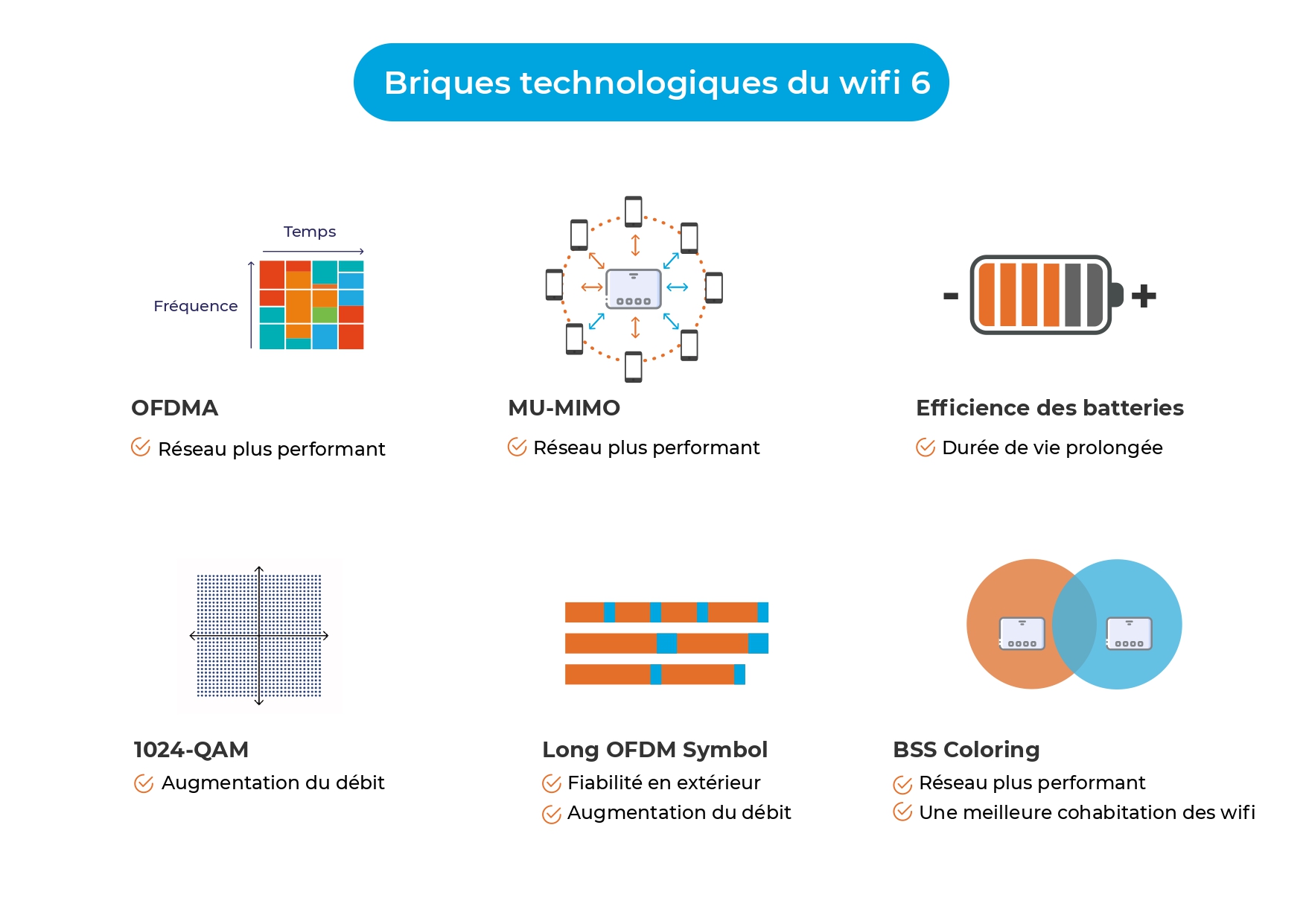 This development was becoming urgent.
The number of connected devices is growing, with bandwidth-intensive applications. Our current routers will soon no longer be able to manage such a large number of devices without impacting the quality of the connection.
Wixalia's opinion
Yes – the theoretical performance of WiFi 6 accompanies new modes of consumption in terms of WiFi connection. It is indeed important if not essential today to be able to connect more and more devices to our WiFi network while ensuring satisfactory browsing.
But…
Deployment conditions
To fully benefit from these performances, it is essential to take into account several criteria:
The WiFi infrastructure must support the 802.11ax standard.
The connecting terminals must be compatible with the 802.11ax standard.
The increase in speeds and the change of WiFi equipment have an impact on the core network, it will probably be necessary:
An evolution of the equipment in place to be able to fully exploit the new speeds provided by WiFi 6.
The most suitable telecom / internet link Very High Speed .
To allow the optimal implementation of the 802.11ax standard on a network, it is therefore necessary to analyse the existing network (both LAN and Telecom) and to propose a LAN, WLAN and Telecom network architecture that is consistent with this new equipment.
In order to support you in the best conditions, Wixalia, operator of WiFi services offers its WiFi expertise: site studies and WiFi performance audit, consulting, architectures, integration and deployments around the 802.11ax standard, but also the high-speed telecom link the most suitable.